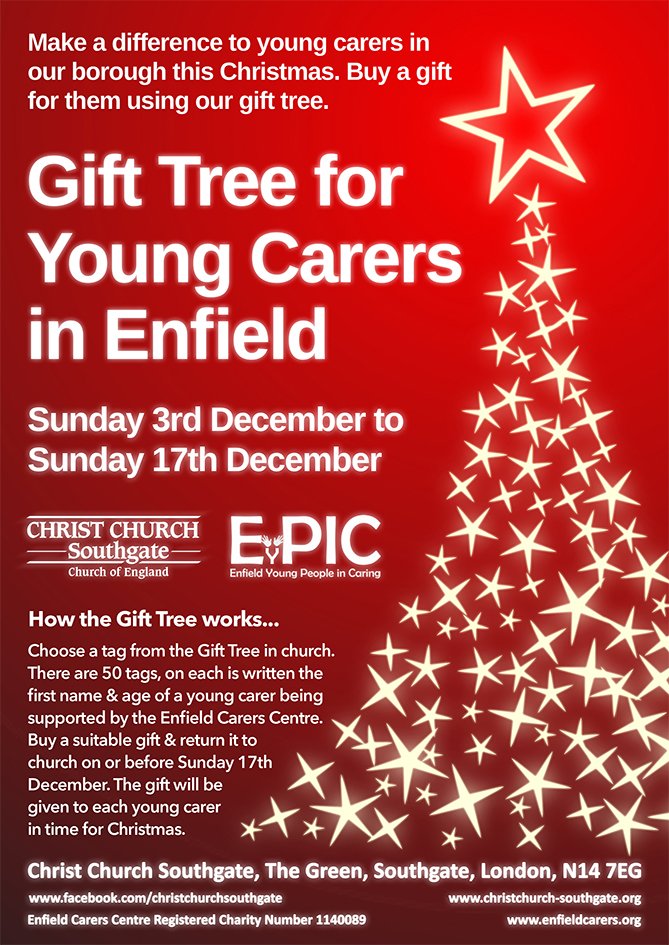 Christ Church Southgate is launching a "gift tree" to donate a Christmas gift to 50 young carers who are being supported by the Enfield Carers Centre.
It is estimated that there are over 700,000 young people in the UK who are caring for a friend or family member due to disability, a mental health problem or addiction. Young carers may be primary carers; caring for a parent or guardian, or a secondary carer; helping to care for a sibling or older relative. The Enfield Young People in Caring Group, part of the Enfield Carers Centre, supports 5-18 year olds in all aspects of their caring role, from helping them with homework to taking them to outings, meeting them in school, teaching them about the illness of their parent or sibling and providing space for them to enjoy life and have fun.
The Gift Tree will be in Christ Church, The Green, Southgate, from Sunday 3rd December to Sunday 17th December. On the tree will hang 50 tags each containing the first name and age of a young carer being supported by the Enfield Young People in Caring Group. It is hoped that fifty people will be willing to take a tag, buy a suitable gift and return it to church on or before Sunday 17th December. The presents will be distributed to young carers by members of the Enfield Carers Centre team at a special Christmas Party, before the holidays. There is no recommended spend or type of gift – suitable (age appropriate) gifts or vouchers are most welcome.
The Reverend Dr Chrichton Limbert, Vicar of Christ Church Southgate said:

"The Gift Tree was the idea of one of our parishioners. Inspired by the Mayor of Enfield's focus on carers, this year we decided to support young carers in Enfield. We have a busy period ahead, with an Advent Procession on Sunday 3rd December at 6.30pm, a Christingle Service at 4pm on Sunday 10th December, a "Pop Up" Nativity Play at 10am and a special carol service with Pam Rhodes from BBC Songs of Praise at 4pm on Sunday 17th December, so there are lots of opportunities to come inside and take a tag from the Gift Tree and return with presents."
Fiona Jones, Deputy Chief Executive of the Enfield Carers Centre said:

"We are hugely grateful to the congregation of Christ Church in Southgate for their kindness and generosity. We have over 400 Young Carers on our books, many of whom are dealing with Mental Health, long term illness, disability or Substance Misuse in their family. To receive a gift will mean the world to them and make their Christmas a little more special. Thank you again, this is what Christmas is all about."