The air pollution that we breathe every day is largely invisible, but is killing us. How did it get this bad, and how can we stop it?
Dr Gary Fuller, an air pollution scientist in the Environmental Research Group at King's College London, explores the history and affects of air pollution, how we can all make a difference and why he's written his new book: The Invisible Killer: The Rising Global Threat of Air Pollution and How We Can Fight Back.
Listen to a podcast with Dr Fuller.
Improve the quality of air you breathe and reduce your pollution footprint
The impact and health term consequences of air pollution have been dominating news headlines of late, with experts increasingly calling on governments to make air quality a public health priority.
How can you minimise your exposure and reduce the amount of air pollution you contribute?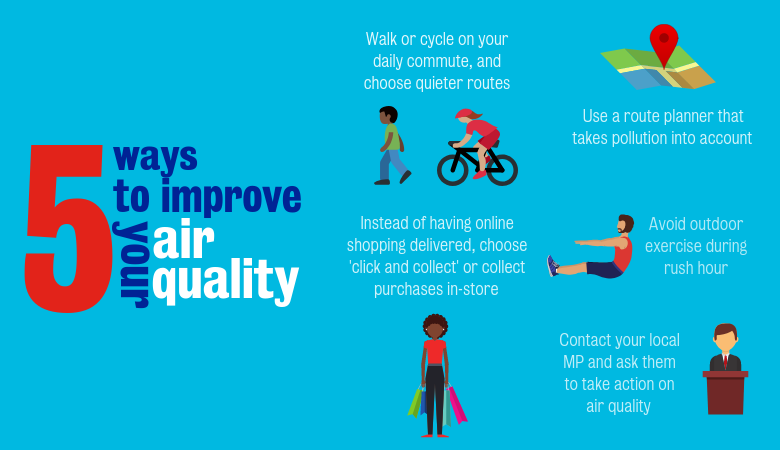 If you can, walk or cycle for your daily commute, choose quieter routes rather than main roads to reduce your exposure to air pollution. Driving not only contributes to the problem but also worsens exposure to air pollution - research indicates that pollutant levels can be higher inside cars than outside of them.
Consider using a route planner that takes air pollution into account, such as Breathe London, so you can choose a route that minimizes your exposure.
Reduce your online footprint by choosing 'click-and-collect' or 'collect in store' options rather than personal delivery. The vast majority of vehicles on London's roads are delivery vehicles, many of which are for personal online purchases. This increases congestion and emissions, particularly nitrogen dioxide and particulate matter.
If you exercise outdoors, try to avoid exercising at rush hour when the air pollution has been found to be highest.
Contact your local council and MP and ask them to take action on air quality.
For more air pollution tips, check out the London Air Quality Network.
Source:  Kings College London website