This event was in the past. For current and future events visit our What's On Page
.
Saturday 21 September 2019 2.00pm
From Home to Home walk in aid of the Alzheimer's Society
Starts at Anastasia Lodge, 10 -14 Arundel Gardens, Winchmore Hill N21 3AE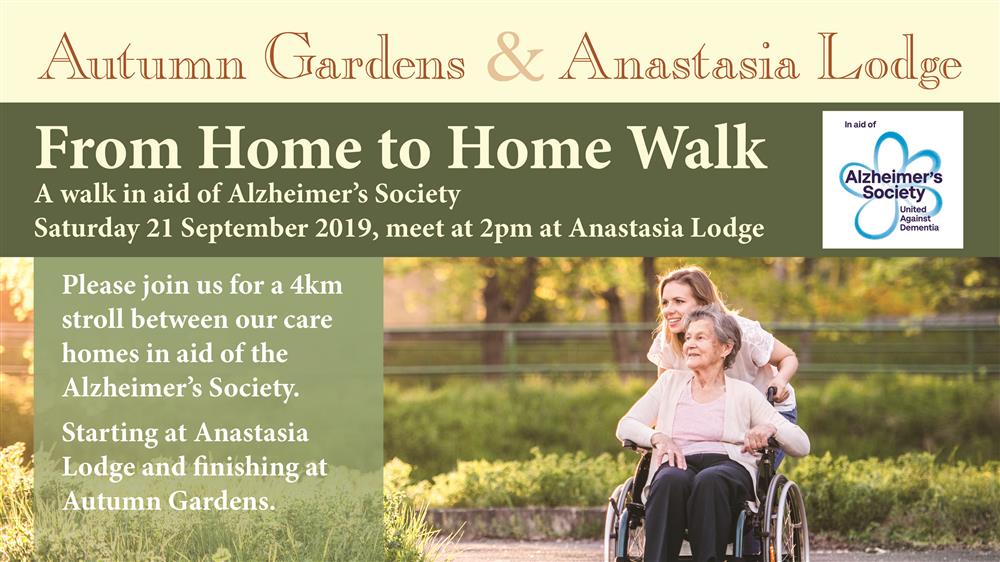 From Home to Home Walk
A walk in aid of Alzheimer's Society
Saturday 21 September 2019, meet at 2pm at Anastasia Lodge
Please help us reach our fundraising target and, better still, please join us for a 4km stroll between our care homes in aid of the Alzheimer's Society. Families, small children and pets all welcome! The route is also fully wheelchair accessible.
Globally, dementia is one of the biggest challenges we face, with nearly 50 million people living with dementia worldwide. Alzheimer's disease is the most common form of dementia. Our private care homes and day care services in Southgate and Winchmore Hill provide our community with residential, nursing and dementia care and support 365 days a year.
To find out more visit www.autumn-gardens.com or contact us on 020 8344 2600 or email .
To donate please visit www.justgiving.com/fundraising/hometohomewalk
Anastasia Lodge 10 -14 Arundel Gardens, Winchmore Hill N21 3AE
Autumn Gardens 73 Trent Gardens, Southgate N14 4QB
PGC cannot guarantee that all What's On information is 100% accurate. If in doubt, we recommend you contact the organisers or visit their website using the More Details button.