This event was in the past. For current and future events visit our What's On Page
.
Sunday 5 July 3.30pm
Online rally: Our NHS Deserves Better
Online Event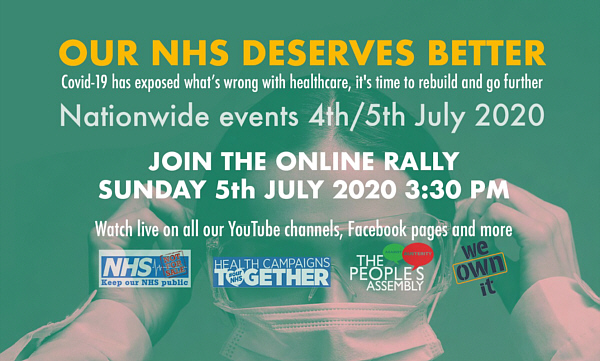 Please note earlier start time
Sunday 5th July is the 72nd anniversary of the NHS. It was created in the aftermath of World War II, (a conflict that saw 67,100 British civilians killed) to create something better for us all.
During the coronavirus crisis in 2020, NHS and Social Care workers have been called upon to work on the frontline to keep us safe. They have often had to work without proper resources and PPE, within an already failing system. Many have been forced to sacrifice their lives. In the UK we have now reached the frightening number of excess deaths linked to coronavirus of 64,000 (up to 28 May 2020), the second-highest death toll in the world. The NHS deserves better, we all deserve better.
This is a damning indictment of recent Government policy and its mishandling of our NHS. When we emerge from this deadly crisis, this can no longer be tolerated. This is also a critical moment when the systemic inequalities in our society are starker than ever. We, therefore, demand an immediate end to the hostile environment, all migrant charging stopped and an urgent investigation into the disproportionate death toll in Britain's BAME community during this pandemic. Likewise, the many disadvantages placed on disabled people and others with additional needs has never been clearer. We believe this moment gives us a unique opportunity to demand we not only rebuild the NHS but go much further and call for radical reform of social care provision.
Covid-19 has exposed what's wrong with healthcare, in the 'spirit of 2020', it's time to rebuild and go much further. Here are some of our demands that make up our '2020 vision' for the NHS:
Rebuild and properly fund the NHS
Proper pay and respect for all NHS and care staff
End racism in the NHS and end all migrant charges
NHS out of all Trade Deals
Public Health back in public hands
Go further: Radical reform of social care
PGC cannot guarantee that all What's On information is 100% accurate. If in doubt, we recommend you contact the organisers or visit their website using the More Details button.