This event was in the past. For current and future events visit our What's On Page
.
Saturday 29 August 7.30pm - 9.30pm
Outdoor Theatre: A Midsummer Night's Dream
Bowling Green, Broomfield Park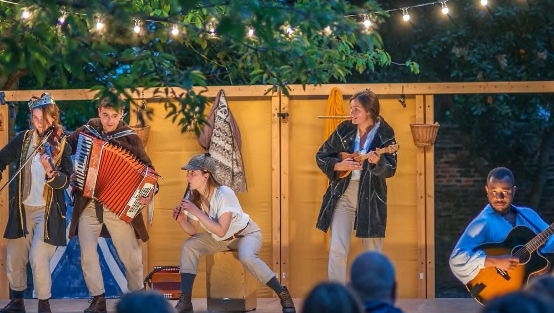 You are invited to a shortened, 'all the best bits' outdoor show of Midsummer Night's Dreams, packed with fun, humour and LOTS of live music.
This entertaining adaptation of Shakespeare's classic is suitable for the whole family to enjoy together.
We welcome to Broomfield Park the Three Inch Fools - a troupe of actors equipped with all manner of musical instruments. They perform their own highly energetic, ingeniously imaginative and vibrantly musical take on Shakespeare's plays across the UK.
Three Inch Fools are dusting off their instruments and stepping back into the great outdoors with a riotous, three-hander version of A Midsummer Night's Dream. Prepare for a post-lockdown Shakespearean adventure like no other before.
The travelling troupe provide an accessible approach to theatre, in lively and inventive productions that are designed to appeal to a broad audience of all ages and familiarities with Shakespeare.
Over the past five years, the group has performed at castles, stately homes, gardens, churches, cathedrals, arts centres, village greens, an old fire station, a medieval crypt, a crowded pub and a garlic farm – all the world's a stage! 
For this event we need our audience to:
keep yourself and others safe
arrive at your allotted time
bring your own food and drink no bar or food stalls this year
sit in 'family bubbles' and keep your distance from other groups
keep children in your picnic space no running about this year!
bring a face mask and hand sanitiser to use if visiting the toilets
wait for those nearest the exits to leave first
TICKETS:
ADULTS £15
CHILDREN £12
UNDER 2 FREE
PGC cannot guarantee that all What's On information is 100% accurate. If in doubt, we recommend you contact the organisers or visit their website using the More Details button.