This event was in the past. For current and future events visit our What's On Page
.
Friday 14 February 9.00pm - 11.30pm
St Harmonica's Blues Club: The Blues Chapter + That Jazzy Patch
The Southgate Club, 17 Chase Side, N14 5BP (Entrance is in Crown Lane)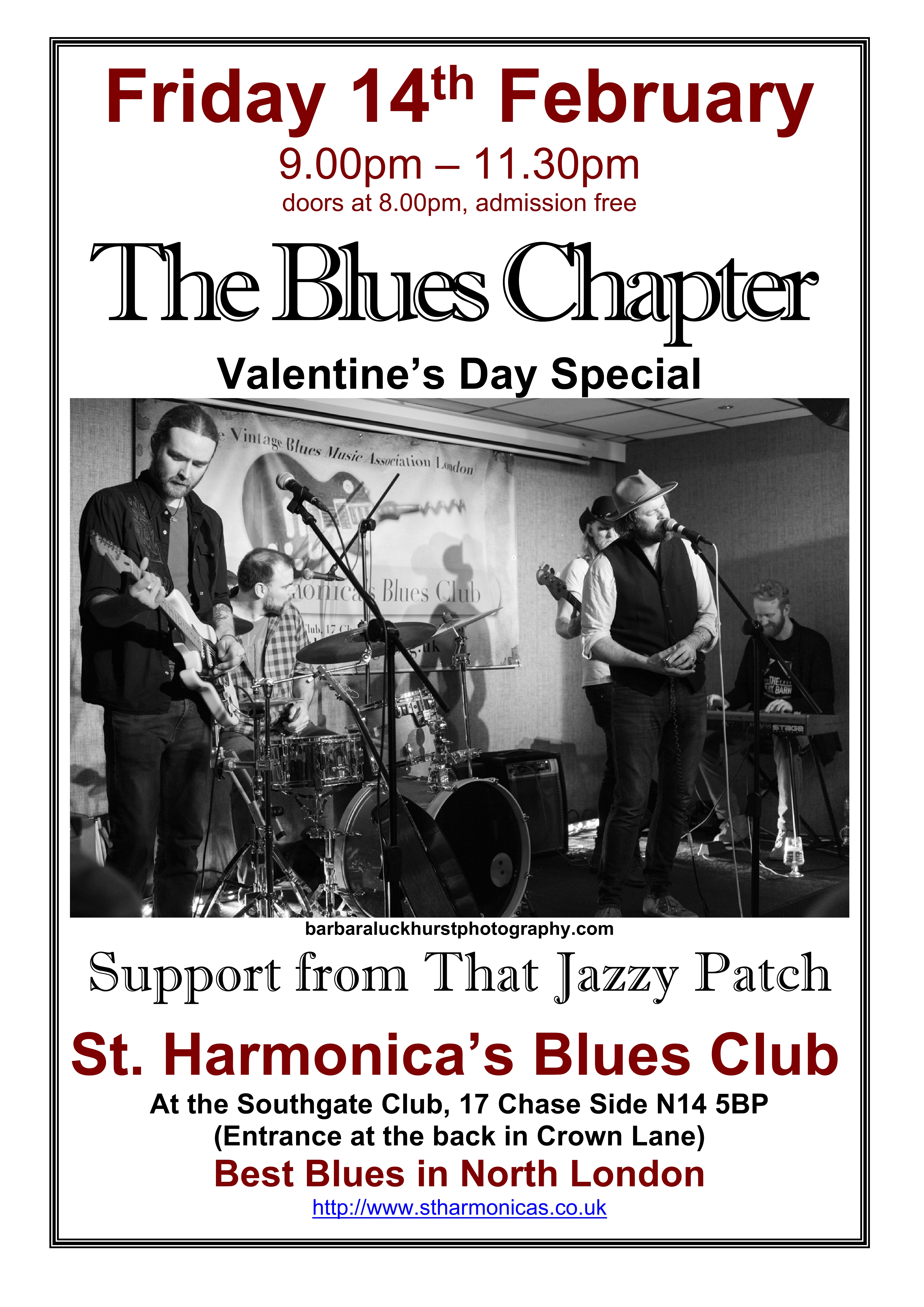 It seems that most people love the Blues Chapter. They still hold the record for the biggest crowd ever at St Harmonica's, so they seemed to us to be the perfect band to play on St Valentines Day.

The Blues Chapter are currently working on their new EP of some of their original material which is nearing the final stages of production and are just one of the most exciting live bands that you'll ever see and, they would argue, the best looking!. All lefties, apart from Jacob Thomas on keyboards who can use both hands, Sky Wood provides the vocals along with harmonica and guitars with Jesse Thomas on guitar and backing vocals. Niol Sweeney at the drum kit and Lindsay Craig on bass - a driving rhythm section. If you haven't seen this band before you are in for a real treat, their own material combined with the best of Joe Bonamassa, SRV and Gary Moore. As it's Valentine's Day they're sure to add a couple of slower numbers too. Bring someone you love.
www.facebook.com/theblueschapter/

A treat, too, at half-time when Ruth and Dave Buckwell, aka That Blue Patch, unveil their bigger collaboration with Simon Bennett, Julia Gannon and Peter Abernethy as That Jazzy Patch. They do exactly as the name suggests.

See you there

UK Blues Awards - please vote by Monday 17th Feb!
You've still got time to vote for St Hamonica's as UK's Blues Venue of the year in the 2020 UK Blues Awards. Thanks to your nomination we have made the top 5 so to now cast your all important vote please go to the link below
www.smartsurvey.co.uk/s/2020FORMUKBluesAwards/
PGC cannot guarantee that all What's On information is 100% accurate. If in doubt, we recommend you contact the organisers or visit their website using the More Details button.