PGC Weekly Newsletter
2 April 2020
It's time to give, give, give
For the second week running the newsletter is dominated by appeals from charities whose normal sources of funding have disappeared. I expect many of you are beginning to suffer from appeal fatigue, which I quite understand. And I realise that many readers are also in dire financial straits themselves because of the coronavirus. But for those of us with secure incomes, from pensions for example, I think it's time to give, give, give.
The organisations that are appealing - hospices, hospitals, charities of various types - are not just in financial difficulties, but are challenged in many practical ways by the virus, which is making their already difficult work even more difficult. We're all threatened by the virus to some extent, so hopefully people will begin to see that their apparently secure and comfortable life can suddenly hang by a thread, that their relatively easy life doesn't necessarily reflect their personal virtues and the problems of others weren't caused by their lack of virtue - as the saying goes, "there but for the grace of God go I". Chance, good luck and bad luck play major roles in everyone's life.
So please think about the old people who desperately need the services of Age UK Enfield and many other local charities, of the patients at the North London Hospice, of the sick children at Noah's Ark and Haven House and their hard pressed families.
Think about the hard and not always pleasant work of the staff of these charities, of the exhausting and hazardous shifts worked by NHS staff at alll levels. Of all the effort that went into building up these organisations, some of which are now threatened with collapse.
How to choose which cause to support? If you can afford it, choose them all.
---
North London Hospice appeal for money and personal protective equipment
North London Hospice desperately needs the public to help meet an enormous shortfall in fundraising caused by the Covid-19 crisis, and has today written to its 6000 supporters asking for financial support during the most challenging time in its 27-year history.
Chief Executive Pam McClinton believes that local services such as dentists, beauticians and schools may have stocks of surgical masks, goggles, aprons and gloves they could spare.  "Like many healthcare providers we are desperately low on supplies of Personal Protective Equipment. At the moment we are unable to visit patients with confirmed or suspected cases of Covid-19 coronavirus as each home visit requires a complete change of equipment to ensure the safety of our nurses and patients. We are sure there are companies or healthcare providers such as dentists and beauticians who are perhaps temporarily closed but have stocks of masks, aprons or gloves. I urge them to please donate them to their local hospice so we can continue to safely visit and support the most vulnerable in our community." Read more and donate.
---
Help support staff at the North Mid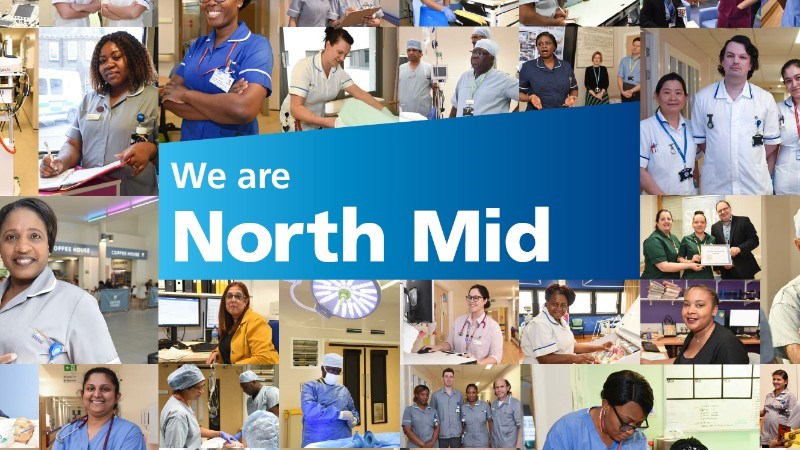 Our staff need YOUR support to let them be able to focus on keeping patients and themselves safe and healthy.
We are creating a dedicated North Mid COVID-19 Support Fund so that any donations can go to help our staff manage to continue caring for, and protecting, our community. Read more.
There's a similar appeal for staff at the Royal Free Hospital group, which includes Chase Farm and Barnet hospitals.
---
London's top traffic cop joins medics in call for slower speeds to reduce strain on NHS
As UK doctors call for lower speed limits to reduce the pressure on health services, London's top traffic cop has gone online to plead for slower driving and to highlight examples of criminal behaviour by drivers taking advantage of clearer roads to flagrantly breach speed limits.
A post to the British Medical Journal has called for lower speed limits during the crisis: "First, we suggest an immediate reduction in motor vehicle speed limits. In England alone there are around 35,000 non-fatal admissions to hospital every year related to road traffic accidents; more than one in 10 of these are serious and likely to require intensive support, including anaesthesia and surgery. Evidence from around the world shows that lowering speed limits can lead to major reductions in injuries. In Canada, for example, lowering the speed limit from 40km/h to 30km/h was associated with a 28% decrease in pedestrian-motor vehicle collisions and a 67% decrease in major and fatal injuries." Read more.
---
This Sunday's one man Palmers Green Marathon
"Like many thousands of people across the UK, I was training for a marathon when news broke of the Coronavirus arriving in the UK. Since the 1st November I have run 1043 training miles (and counting!), got through three pairs of trainers, and even run on Christmas Day. My planned event has rightly been postponed, but I've been left with a feeling that something needs to be done right now for those who are struggling. I was due to run the Manchester marathon on Sunday 5th April, but now I'm planning to run the very first, very special Palmers Green Marathon." Read more.
---
St Harmonica's goes online
Missing Friday nights at the Southgate Club watching the great bands playing at St Harmonica's? Well, we can't do anything about the lockdown, but we can do our best to recreate St Harmonica's in the comfort of your own home. So pour yourself a glass of beer, move the furniture aside to make yourself a dance floor, click on the first of the music videos below and start a text conversation with some of the people you usually meet up with at the club. Read more.
---
Waste and recycling collections: No big clearouts, please!
If the lockdown seems like a good time to have a big clearout and leave it all out for the binmen to take away, please don't. Like everyone, they're under great strain at the moment. Recycle Now has provided guidance of what to do with your waste, including what to do with potentially infected items. Read more.
---
More online events
As well as the weekly online yoga, there is now online life drawing, ballet from Sadlers Wells and online full-length plays recorded at the National Theatre. That is, if you have any time left from your free online courses courtesy of Enfield Libraries!
---
Also this week...
Use your library card to access free online courses
Exercise at home with Age UK Enfield
Message from a Co-op Member Pioneer: How can we help?
Help for those in need of practical support
Support for residents who fall behind with council tax payments
Enfield Housing Services during the Coronavirus outbreak
Love Your Doorstep: Update on Coronavirus Help
---
Reported elsewhere...
Community initiatives launched across Enfield to support people being forced to self-isolate at home
Explaining coronavirus to kids
New government guidance for the public on the mental health and wellbeing aspects of Coronavirus
Nursing a Covid-19 patient at home
Plan for 29-storey tower block at Enfield retail park
Coronavirus: Stay fit to fight the virus, say medics
Working from home risks online security and privacy – how to stay protected
Evening Standard Corona Crisis Appeal
London child poverty rises by 100,000 in five years
---

---
For more details of the events and notices below, click/tap on the graphics