At the recent meetings about reviving Palmers Green town centre a suggestion made from the floor was that PG needs a "community hub".
So what might a community hub look like?
A couple of months ago I visited Social Spider, the community interest company that, among other things, publishes the Enfield Dispatch. Their offices are near St James St Station in Walthamstow, in a building called The Mill.
The Mill is a perfect example of one possible type of community hub. Its promotional leaflet describes it as "Walthamstow's living room - a home from home for everyone", and that's exactly what it felt like being there.
This video of a day in the life of the Mill gives you a flavour of what it's all about.
The Mill is run by volunteers and hosts a varied programme of events and groups.  Additionally, rooms can be hired out for parties, training sessions, workshops, meetings, support groups and consultation events.
This video tells the story of how it came about and some of the ways in which it brings the community together - people from different heritages and different generations.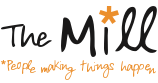 Our Vision is of a strong local community where people love to live, and know and care for their neighbours.
Our Mission is to provide a welcoming, positive, accessible and inclusive space at the heart of Walthamstow, and work with the local community to make things happen.
Our Values are at the heart of everything we do:
We're for everyone: We welcome everyone. We believe that everyone has a role to play and skills to share. We believe in reflecting the balance of abilities and passions in our community.
We believe in people: We believe in the unique capacities and passions that individuals bring and work with them to make their ideas happen.
We focus on local community: We love our local area and trust the community to shape and know how to develop its potential.
We believe in the power of creativity: Imagination and creativity can help people to see things differently, express themselves and inspire others.
The Mill came about because local people were upset to see the building that had been their local library empty and forlorn. There are several buildings close to Palmers Green Triangle that are also empty and looking increasingly forlorn. Might one of them be suitable for our own community hub and do we have people with the vision and energy to make it into one? I think the answer to both questions is Yes.
Links